Community information
Get involved in your community. Our community information directory CINCH can help you:
Find a yoga class
Look for a support group
Find a venue or hall for hire for your event
and more …
CINCH includes:
More than 6000 community organisations in the greater Christchurch area, including Waimakariri and Selwyn Districts.
Information on organisations including contacts, when and where it meets, and other helpful information such as facilities for hire.
We contact organisations listed on CINCH annually to keep the information up-to-date.
List your organisation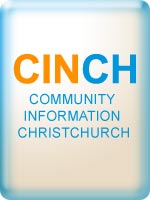 You can add your organisation or change your organisation's information online.
There are some conditions for inclusion.
Events
We do not list events in CINCH. If you are having an event in Christchurch or the Canterbury Region, you can promote it at Be There.
In your local library
Your local library will have displays of community information.